Shop Your Dream Wardrobe!
Borrow the latest designer fit for a fraction of the cost! Love it Loan it is a cost-effective and sustainable way to wear a new high end outfit from your favourite designers for every special event  
We stock the latest dresses, jumpsuits, sets and more! In a wide range of sizes and styles, to suit all body types and budgets
Based in Dunedin NZ, we offer try on appointments for local girls during the week
We have over 270 garments to choose from! Search by size, style or browse all garments, to find your next glamorous outfit!
For more information about shipping, try ons, T&C's and our frequently asked questions, check out our information pages
Happy hiring x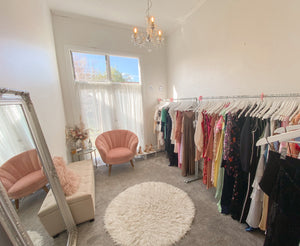 Our Showroom
We have a gorgeous showroom located in Kaikorai, Dunedin which has been specially designed for fittings! Find an available time by selecting the 'Book a Fitting' button. If you are travelling to Dunedin or are in need of a last minute appointment please flick us a message x
Book a Fitting!